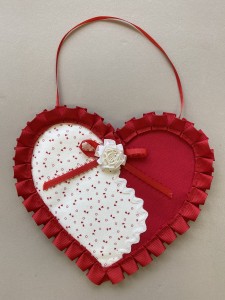 Valentine's Day is just around the corner, and it can be difficult for those who have experienced loss. There are several ways to honor and remember those lost but still in the heart. One way we like to acknowledge loved ones is with a Keepsake Heart. A free Keepsake Heart from Angel Layettes serves as a beautiful reminder of those loved, lost, but not forgotten.
Our volunteers craft each heart by hand in varieties of colors and designs, with love, to gift to families. With community support, we were able to help over a thousand families honor and remember their loved ones lost last year! We love our community, volunteers, and families!
We would love to help parents honor memory of children they have lost during the week of Valentine's day by offering Keepsake Hearts free of charge. The Hearts can be picked up in person at the Angel House, which is located at 10534 FM2813, Flint, TX 75762 or can be requested to be sent by mail. Please come visit us between the hours of 11-4 p.m., Tuesday through Friday to receive a tour and your free Keepsake Heart.
---